What a Girl Wants
By Sheryl Porter
Toting around a super cute gay guy truly gives you more bang for your buck…
My heart is breaking.  I guess the news is official since it was printed in the pages of Women's Wear Daily rather than US Weekly:  Uber designer Marc Jacobs is engaged to wed Lorenzo Martone.  I've always had a secret non-sexual crush on MJ.  As I surf the internet for the latest season's fashion, I would daydream about being his muse and sitting front row at his fashion shows.  Basically, I hoped Marc Jacobs would be my gay pal and fashion confidant.  Like Samantha explains in the 'Sex and the City' movie, every girl needs a 'gay'… that is a gay guy she can hang out with, shop with and just be utterly fabulous with.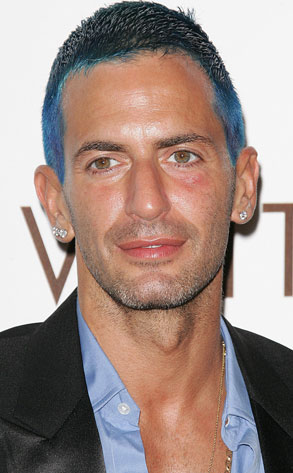 << Marc Jacobs.  Yes, he designs for Louis Vuitton too!
Toting around miniature dogs is so 15 minutes ago.  With the recession, we all have to do 'more with less' and toting around a super cute gay guy truly gives you the most bang for your buck.  Think of it as more as an emotional investment.  I am not an authority on this subject as I am obviously doing something wrong.  My gays keep moving out of state… sniff.  Today, I'm seeking a bright new shiny one!!!  So I have enlisted the help of a fab friend, J Mac, who is masterful in the field of finding gay pals.  She gave me a few tips in nabbing a new bestie:
Tip #1  You really have to choose someone who is a gentleman.  Like my gay, he opens all the doors for me, carries my luggage, drops me off at the door if it was raining or snowing or sleeting. They have to have MANNERS.
Tip #2  Can't be prettier than you.  If so, you will never get the attention you deserve as a gorgeous, smart and successful beauty queen that we are. BUT! has to still be cute and fashionable. You are toting them around everywhere with you after all.
Tip #3 Can't like sports….gotta really be into shopping, cocktailing, fashion and REALITY TV like we are.  This is a BREAK from your husband/boyfriend's couch sitting, football watching fall season. This is who WILL hang out with you on a Sunday during a big game and shop or go to pilates and yoga with you.
Tip #4:  I try to keep mine to a 3 minimum that I am very close to.  It gets a little too high maintenance after that.  But if you are ultra-fabulous like Victoria Beckham, it is really endless.  If we could all be like VB or CHER.  Well, she is always number one in their hearts.
Tip #5:  OH!! Another thing, they have to be on call at all times.  No matter what!!!  I can tell you, my gays answer the phone no matter WHEN I call… from Las Vegas, from wherever.
BTW, I am accepting applications… SP